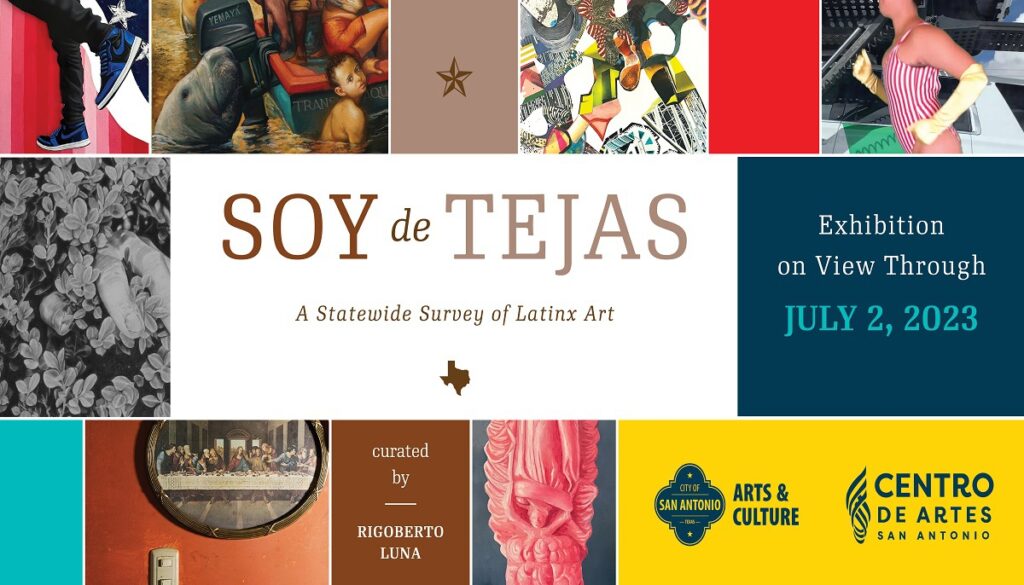 Soy de Tejas presents the works of forty native Texan and Texas-based contemporary artists who reflect the diverse and beautiful complexity of Latinx identities. Curated by Rigoberto Luna, the more than 100 artworks filling the two-story exhibition forge new connections and explore intersections from a nexus of artists who ambitiously blaze a trail of contemporary artmaking, presenting fresh Latinx perspectives and experiences while amplifying the voices of a segment of Texas' most inspiring established and emerging artists.
"The exhibition is coupled with unprecedented enthusiasm and attention turned to narratives of artists of Latin American descent within the current art world and explores themes ranging from race, class, and gender to migration, mythmaking, displacement, and indigeneity," said Luna. "In contrast, many works center on celebrating joyful customs, culture, and traditions that unite and sustain our communities in the face of a multitude of challenges."
Featured Artists: Cande Aguilar, Francis Almendárez, Fernando Andrade, Violette Bule, Angel Cabrales, Sara Cardona, Christian Cruz, Jenelle Esparza, Christopher Nájera Estrada, Melissa Gamez-Herrera, Karla Michell García, Omar González, Raul de Lara, Ingrid Leyva, Ruben Luna, Alejandro Macias, Chris Marin, Gabo Martinez, Gabriel Martinez, Tina Medina, Juan de Dios Mora, Arely Morales, Francisco Moreno, Patrick McGrath Muñiz, Benjamin Muñoz, Marianna T. Olague, Joe Peña, Jaylen Pigford, Vick Quezada, Stephanie Concepcion Ramirez, Josué Ramírez, Natalia Rocafuerte, Gil Rocha, Eva Marengo Sanchez, Marco Sánchez, Ashley Elaine Thomas, Bella Maria Varela, José Villalobos, Sarah Zapata and Jasmine Zelaya.
The exhibition is free to visit.
Opening Reception February 9, 2023 from 6 PM to 10 PM
When Thursday, February 9-Sunday, July 2
Where Centro de Artes Gallery, 101 S. Santa Rosa St. in Historic Market Square